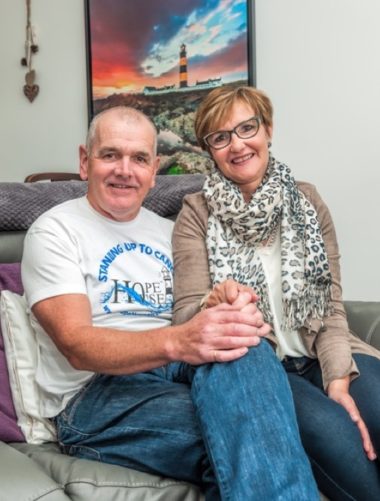 February 1990
In February 1990, at the age of 34 Roy was given the news that he had non-Hodgkin Lymphoma and was given a 30 per cent chance of survival.
After a year-and-a-half of chemotherapy, a bone marrow transplant and much prayer, Roy amazed the doctors when he fully recovered.
He was clear for 21 years.
February 2012
In February 2012 the couple received the news that all cancer survivors dread and were told that the cancer had returned. Roy commenced a year-long journey through chemotherapy before getting the wonderful news that he was once more clear of cancer.
A personal word from Dawn:
Getting a cancer diagnosis is devastating not only to the person receiving it, but also to the immediate family. The whole landscape of your life totally changes as visits to the hospital for treatment and checkups take over your life.
What our Experience Taught us
Experience has taught us that it can be hugely beneficial to remove yourself from the normal routine of everyday life of having to cope with hospital appointments and treatments. A break, for a few days, can be truly valuble in recovery. In fact research shows that our surroundings can have a profound effect on the immune system function and our sense of well-being.
Many times during Roy's treatment we would have loved a break away, however with our disposable income decreasing significantly after Roy's diagnosis this was impossible.
During this time someone provided a seaside apartment for us free of any charge for 4 months. The location was beautiful and simply sitting looking out at the sea was therapy for us both physically and mentally; it was a place of refuge in the midst of the dark storm that had hit our lives. It was during this time I did some research to find out if anyone was providing a free holiday break for older adults. I was surprised to find whilst several wonderful charities provided breaks for children and teenagers, there was no such support for older adults and having benefited greatly from the breaks in the apartment we decided that we would look at ways we could provide this much needed service. It was during this time that the vision for Hope House was born. We started our charity in October 2013 and raised enough money to rent an apartment on the seafront in Whitehead with beautiful sea views.
Stand up to Cancer
We are a team of volunteers passionate about helping people Stand Up To Cancer by offering support to ease the stress that a cancer diagnosis brings into a families life. In 2015 I received the news I had stage 3 breast cancer and for the third time as a family we would have to navigate our way through the storm of chemo and a mastectomy surgery. It was a hard blow to deal with as I needed to keep the charity going throughout my illness. I am so thankful for my family and the wonderful team who help me with the running of Hope House they enabled me to stay focused and because of them, and our wonderful fundraisers, the Light House is still standing after the storm. I am now clear of cancer and better equipped than ever to help people Stand Up To Cancer.
On behalf of TeamHOPE, a great big "Thank You" to everyone who has supported us on this journey and because of your kindness, generosity and wonderful fundraising. The charity has now purchased our own beach front property at Brownsbay to ensure that the much needed service we provide is now permanent. We do not receive any government funding so to have achieved this wonderful goal is all because of your support.
The charity of Hope House is run by volunteers as we want the money we raise to help with the continuing development of our service which will enable us to accommodate more people. Please get in touch with us if you would be interested in helping us with any fundraising, we would be delighted to hear from you. You can also support us by becoming a monthly sponsor or make a one-off donation on our website through Paypal, JustGiving or bank transfers.
Dawn McConnell.